About Spraychief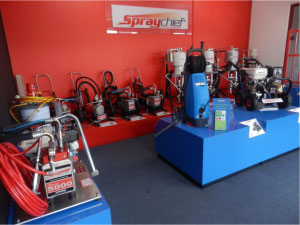 Are you shopping for an airless sprayer? Need an airless spray gun to get a job done? Whether you're painting or priming, cleaning, or repairing, you want a Spraychief product to help you get the job done – not one of the imitators. When it comes to spraying paint, water, or air – Spraychief has a product to help you get it right the first time. We've been the experts in fast, no-fuss paint sprayers, airless sprayers, water blasters and accessories for over 38 years, so you know you can trust a Spraychief airless sprayer to get the job done.
Spraychief is fully Australian-owned, using Australian-made parts wherever possible. Our Airless Spray guns and water blasters are assembled locally with the utmost attention to details, performance and solidity.
We've been using top quality technology to help you get a job done faster for over 30 years. The company was established in 1978 – first selling Airless spray machines – and has enjoyed a good reputation in the industry. All Spraychief products are assembled in our Laverton factory, from selected local and overseas components, with an emphasis on creating quality products as well as using Australian content wherever possible. Spraychief continues to introduce new products and is proud of its ability to provide spares, back-up and technical support for all items within its product range.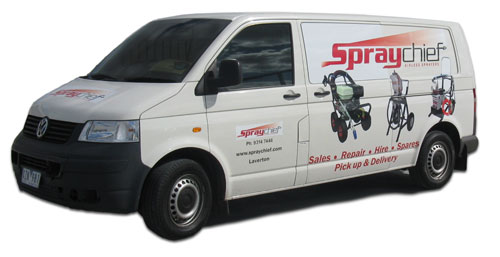 Spraychief stocks a HUGE range of products and spare parts for your convenience, and in most cases these can be delivered to you in 24 hours. Spraychief provides you with innovative, value for money, high quality spray painting equipment, accessories and spare parts, together with specialised technical support and information. Spraychief provides a 12 month manufacturer's warranty on their new units.
The product range has expanded along with the business, and we are now applying our advanced technology to all types of sprayers and associated products and services.